The global pharmaceutical market reached $1.27 trillion in 2020, which is more than a three-times increase in less than 20 years. As the industry is growing, industry players, including drug researchers, manufacturers, wholesalers, and pharmacies, face the need for pharmaceutical software development.
Demigos' team of experts specializes in healthtech development and has already helped numerous medical organizations to reach their goals with top-notch custom software. This article covers the most common types of pharma technology solutions and the benefits companies can unlock by implementing them. We'll also give you a brief overview of typical software features, as well as run through compliance requirements and other challenges you may encounter on the way to market.
Common types of pharmaceutical software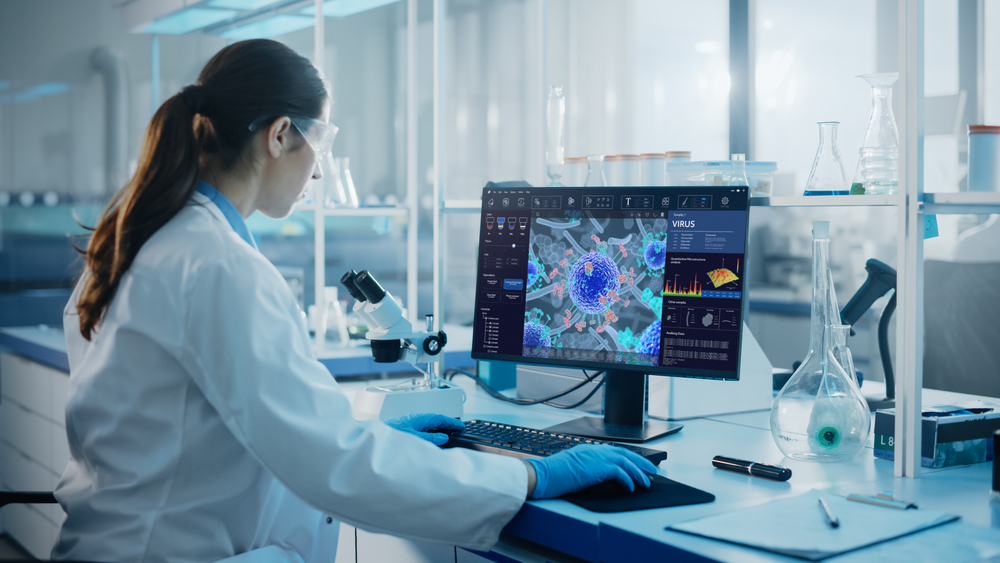 Pharmaceutical software is an umbrella term for a variety of software solutions used by pharma developers and manufacturers, raw material suppliers, wholesalers of pharmaceuticals, as well as drug stores and healthcare providers. Each user group has its specific needs that the software should address.
To better navigate through the different custom software solutions for the pharmaceutical industry, let's explore the three most common types.
Pharmaceutical enterprise resource planning (ERP) solutions
Drug manufacturing is a complex process. Pharmaceutical ERP software can help pharma companies gain complete visibility of their workflows and data streams. It can automate routine tasks, simplify data sharing across different departments and teams, reduce human involvement in production, and help better analyze existing data.
For example, Orion EHR unifies and analyzes clinical data, helping researchers make trials more effective. Mag Pharmacy ERP software facilitates inventory control and simplifies billing and accounting. With BatchMaster ERP, pharma producers can track and document the entire manufacturing process from raw material supply to the finished product.
Pharmaceutical supply chain management (SCM) software
Pharmaceutical supply chain software allows drug producers and distributors to prevent counterfeiting and comply with drug traceability regulations like the Falsified Medicines Directive (FMD). Examples of such software include PharmaNET and RetailGraph.
SCM systems can integrate with EPRs and other business solutions. This allows pharmaceutical businesses to streamline the entire supply process and bring all the product documentation to one place. Though the functionality significantly varies, most solutions combine purchase, inventory, and distribution management, making the entire product journey visible to users.
Pharmacy management systems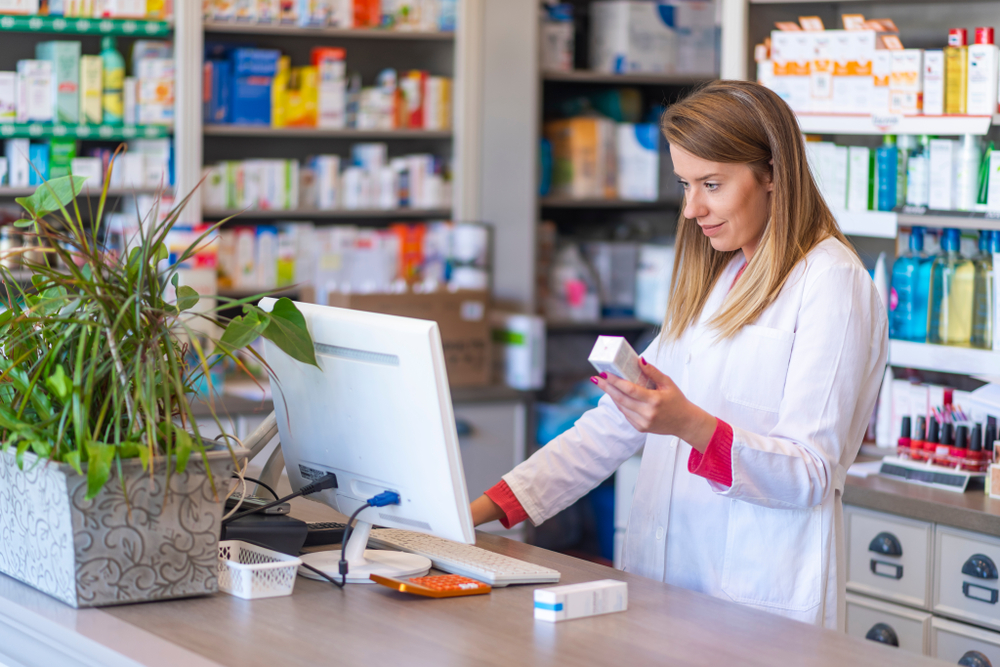 Pharmacy management software (such as Omnitracker and McKesson) aims to automate and optimize pharmacy workflows, prevent medication fraud, and improve patient health outcomes. This software type allows pharmacists to control their inventories, easily review orders, automate billing, and spot incompatibilities.
Additionally, pharmacy management software can integrate with a hospital's Electronic Health Record (EHR) system. This allows pharmacists to access patient health records and, together with physicians, provide better recommendations based on a patient's allergies or medication history.
More and more companies choose to build custom pharmaceutical software solutions as they can provide more flexibility and even combine the functionality of different systems. Let's take a look at other benefits.
Key benefits of building pharmaceutical software
Pharmaceutical software development can bring a variety of benefits to businesses operating in this market. Here are some of the clearest examples.
Manufacturing and trial enhancement
Well-developed pharmaceutical software allows pharma companies to automate and optimize their R&D operations and clinical trials. This technology can improve data management and protocol creation, accelerating clinical analysis and reporting. Pharmaceutical software can also serve as a centralized data repository and help to spot inconsistencies in research data at an early stage.
Along with clinical trials, pharmaceutical systems can optimize the complex manufacturing network by automating documentation, reporting, and inventory tracking, to name a few. As a result, pharma companies can gain better control over production, accelerate the production lifecycle, and improve drug quality.
Regulatory compliance
Meeting regulatory requirements is one of the greatest challenges for the pharmaceutical industry. Compliance with regulations like the Health Insurance Portability and Accountability Act (HIPAA) in the US and the General Data Protection Regulation (GDPR) in the EU come with hefty price tags. In 2017, compliance cost multinational organizations in all industries $5.47 million on average, while the cost of non-compliance was 2.71 times higher. The pharmaceutical industry knows this firsthand: it has already paid over $70 billion for non-compliance since 2000.
Deloitte states the pharmaceutical industry needs a compliance upgrade, and digital technologies can help here. Software can reduce manual efforts, streamline reporting, and centralize data, which is a blessing for the compliance departments of pharma organizations.
Cyberattack and fraud prevention
Rapid digitalization and an increase in remote working have resulted in a rise in cybercrime. The pharmaceutical industry is the third most-impacted industry, with the average cost of a data breach of about $5 million. Data leakage and security gaps also create more opportunities for fraudsters. In 2020 alone, there were more than 1,000 new healthcare fraud investigations opened in the US.
Well-developed software allows you to automate business processes, identify security gaps, and minimize human error, improving your security from outside threats. Additionally, technology makes the entire process of drug manufacturing, licensing, and distribution more transparent, helping companies to improve drug traceability and prevent fraud.
Better business resilience
Covid-19 has pushed the pharmaceutical industry to innovate. AI-driven drug discovery, remote patient monitoring, e-pharmacy, e-prescription, and other trends are reshaping the future of how pharmaceuticals are developed, manufactured, and distributed. No wonder that more companies have decided to develop custom software solutions for the pharmaceutical industry.
The industry has to be flexible and stay ahead of new technology trends to gain more growth opportunities. Along with better operational efficiency and productivity, software can help pharma distributors deliver more personalized services and match growing patient expectations.
Improved patient outcomes
Better patient outcomes result from all the benefits we mentioned above. Better control at the production site and more efficient clinical trials result in a better quality of pharmaceuticals entering the market. Improved compliance and drug traceability reduce the occurrence of counterfeit drugs.
Software can also improve pharmacists' efficiency by automating drug dispensing, billing, and marketing pipelines. By launching pharmacy software, pharmacists can free up their time to focus on patients more.
But pharmaceutical software isn't a magic wand, and its efficiency depends on many factors, including functionality, integrations, and development quality. Let's take a closer look at the features that the leading pharmaceutical software solutions have.
Pharmaceutical software: Features to consider
Pharmaceutical software comes in various forms and shapes. Depending on whether you need to build pharma software for manufacturing or develop an app for an online pharmacy, its functionality will vary. Let's run through the most common features:
Drug discovery
If you need software to assist you during drug development, drug discovery is one of the first features to start with. Pharmaceutical software can help researchers to develop and validate formulas, comply with pre-set objectives, and perform audits. Additionally, software solutions provide data centralization and allow researchers to navigate through large volumes of medical publications, pharmacopeia articles, and more.
Drug traceability
Most pharmaceutical software solutions allow users to control the batch and lot of a drug, its authorization, production and expiry dates, and the country of origin. At the production site, this feature also allows pharma companies to auto-generate batch and lot numbers with real-time product tracking.
Along with fraud prevention, the drug traceability feature allows manufacturers and distributors to quickly respond to product defects, track inventory and drug location, as well as manage documentation.
Inventory management
Inventory management functionality goes beyond just inventory updates. It often includes location tracking, stock organization, medication (or supply) ordering, automated dispensing, and stock movement tracking. With the help of software, pharmacies can timely replace expiring drugs and automatically initiate reordering. Manufacturing software can also help to process product recalls, returns, and claims.
E-prescription
This feature is usually enabled through EHR integration. Doctors create drug orders for a patient and send them to a pharmacy. The pharmacy prepares the order and notifies the patient that the order is ready. Some pharmacies can also provide delivery and courier services.
Along with e-prescribing, software also automates renewal requests and can enable secure communication between patients, doctors, and pharmacists.
Billing and accounting
If you are a supplier or wholesaler, software can help you streamline accounting and automate invoicing and financial reporting. If you are about to build your own pharmacy software, consider the processing of different payment types and returns, as well as support for the patient shopping experience. Pharmacy management software can also manage the pharmacy's marketing and customer loyalty program.
Treatment plan management
Physicians can create more effective medication plans together with pharmacists using centralized data pools with all relevant patient records. Pharmacy software can provide educational materials, enable communication, and send medication reminders to patients, improving their treatment adherence. This is one of the most useful pharmacy software features when it comes to the improvement of patient outcomes.
Analytics and reporting
On-demand reporting, analytics, and visualization are at the core of any software solution. These tools can help forecast medication demand and develop strategic plans based on marketing and sales results. Dashboards can gather real-time data from various sources in one place, helping to track business KPIs and visualize relevant patient records.
There are many more features that you can include in your software solution. For example, you can add a web portal for your suppliers or patients, create a pharmacy app for mobile devices, and more. The functionality will also affect how much pharmaceutical software development will cost.
Regulations to consider in pharma software development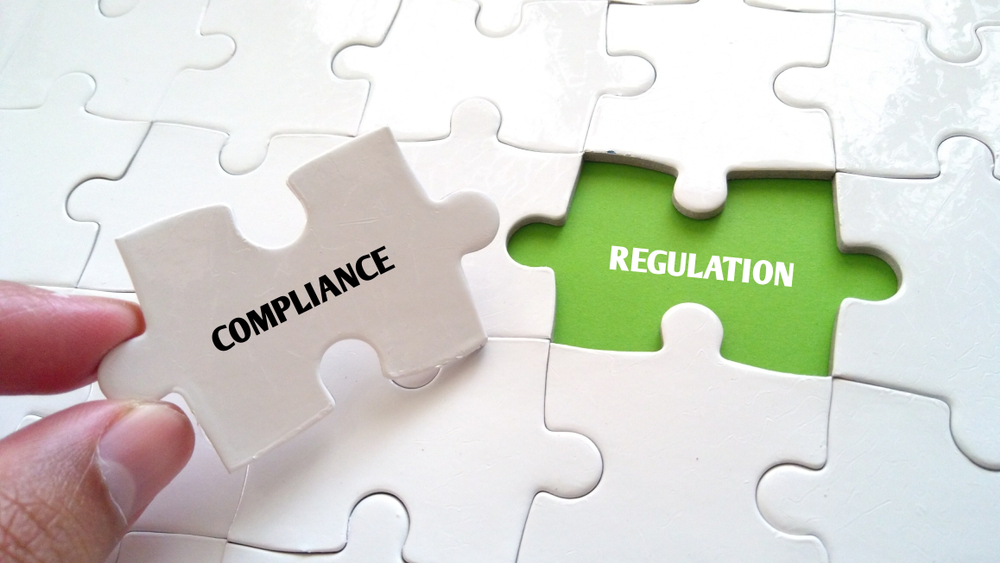 Compliance is one of the most critical things to consider before you start choosing pharmaceutical software developers. Healthcare is a rather regulated industry, so be aware that your software should comply with all regulatory requirements.
Here are some of the regulations that you're sure to encounter:
HIPAA
The HIPAA stands for the Health Insurance Portability and Accountability Act. This US regulation protects the privacy of protected health information (PHI) by regulating how patient records are collected, stored, and used. If your software deals with PHI, including patients' health records, then HIPAA compliance is a must.
HITECH Act
The HITECH (Health Information Technology for Economic and Clinical) Act was introduced by the Obama Administration in 2009. Its main purpose is to incentivize healthcare organizations to use EHRs and, thus, expand the adoption of health tech. The Act enforces HIPAA compliance and tightens non-compliance penalties.
GDPR
The General Data Protection Regulation (GDPR) is the EU act that protects the personal data of EU citizens and ensures their data privacy. Along with implementing appropriate security measures to prevent data breaches, companies should inform people whose data they process about the information they hold and for what purposes. The GDPR is famous for its eye-watering non-compliance penalties (up to 4% of total global annual turnover).
CCPA
The California Consumer Privacy Act (CCPA) protects the privacy and data of California residents. Just like the GDPR, the CCPA requires companies to notify users about the collected data and delete it upon the user's request. The Act also prohibits the sale of personal data to third parties.
NIST
The US National Institute of Standards and Technology (NIST) provides guidelines to help federal agencies meet compliance requirements, including those of HIPAA and the Federal Information Security Act (FISMA). The NIST recommendations are not compulsory, but they are based on security best practices across a variety of industries and largely supported by the government.
Regulatory compliance can seem a daunting task, but with a reliable tech stack, you can ensure that the appropriate security measures can be implemented in your software. Let's have a closer look at what a reliable tech stack is.
Pharmaceutical software: Tech stack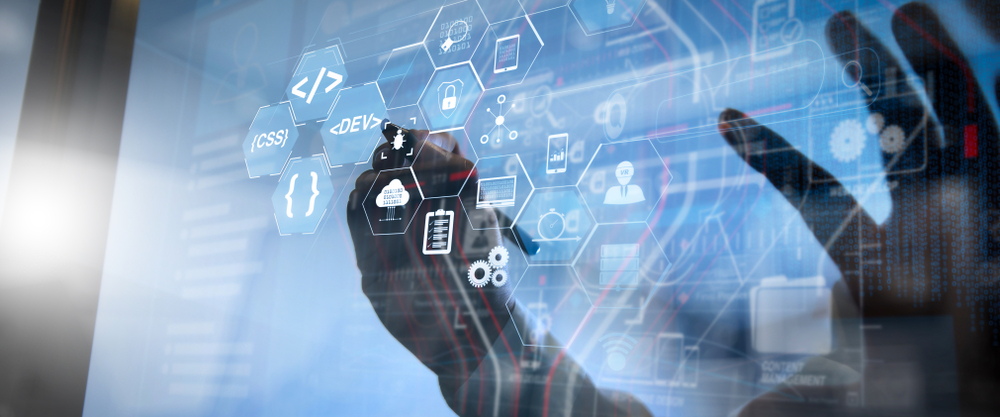 When choosing pharmaceutical software development services, pay attention to the tech stack. There are a variety of programming languages, libraries, frameworks, and databases, so deciding on what suits you best can take some time. For example, here are the technologies that we use at Demigos.
Python
Python is an open-source programming language used for the backend. It's a dynamic language with an easily readable syntax, so developers can build feature-rich pharmaceutical solutions that are highly scalable.
Pharma software development companies also use Python for building machine learning models and AI. These technologies enable the predictive analytics that is at the core of healthtech. Python is also generally used for building tracking and monitoring functionality in pharmaceutical software solutions.
React
React is an open-source framework used to build frontend-heavy web software solutions that are engaging, responsive, and easy to use. You can see this yourself by checking out one of our use cases, GapNurse, which was built using React.
With React, developers can build software on a variety of platforms, including Windows, macOS, and Linux. This makes this technology highly flexible and cost-effective. React also enables frequent design and UI updates that don't affect software performance. For example, when creating pharmacy software with a patient web portal, interface changes are likely to happen regularly to match users' needs.
React Native
React Native is an open-source framework with a modular architecture for fast mobile application development. React Native allows developers to reuse components instead of writing them from scratch and to add modules to the app incrementally without even restarting it.
Additionally, developers can save a lot of time because React Native allows them to build cross-platform solutions that work for Android and iOS. Though React Native is a cross-platform tool, it supports native modules and controls, so you can be sure that your app performance will be native-like.
AWS
Amazon is considered the most reliable cloud provider and complies with over 1,000 compliance requirements, including HIPAA and GDPR. Pharma software development companies use Amazon Web Services (AWS) infrastructure to reduce their time to market, ensure operational resilience with no downtime, and even streamline innovations. AWS services simplify the development of complex solutions like AI and the Internet of Things (IoT).
Whether you need to develop online pharma software or a mobile application, a reliable tech stack can ensure high performance and user experience. Yet, the use of the right technologies won't guarantee a project's success. Let's explore what challenges you can encounter down the road.
Pharmaceutical software development: Main challenges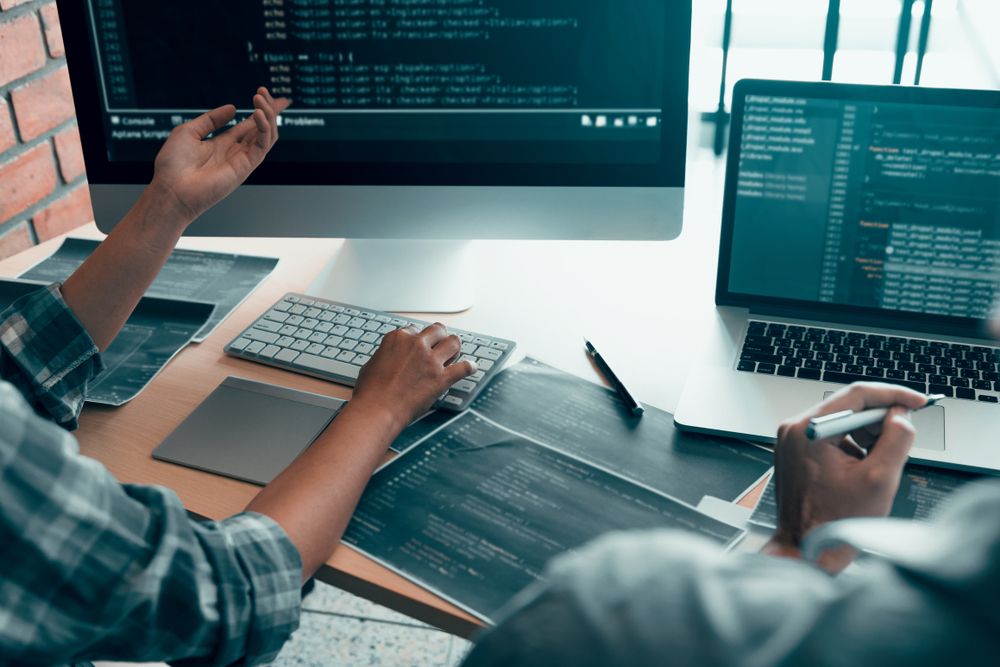 Along with the challenges of regulatory compliance, data privacy, and choosing the right tech stack, there are a number of other problems to be aware of.
Complex integrations
To develop pharmacy software, you may require integration of delivery and shipping solutions (such as FedEx or DHL), interactive voice response systems, and prescription labeling systems, let alone customer databases and the hospital's EHR systems. Pharmaceutical software for manufacturers and wholesalers will require integrations with even more complex third-party systems (for example, systems for manufacturing automation, supply control, AI-enabled drug discovery, payment management, and more).
High requirements for scalability
Pharmaceutical apps have to work with no downtime and be always accessible from different devices. Inexperienced developers may fail to ensure the high performance of feature-rich solutions. What's more, maintaining the high availability of the application can cost you a pretty penny if it's not optimized properly.
Pharmaceutical software for larger organizations may need less flexibility and mobility than patient-oriented pharmacy apps, but long periods of downtime will cost manufacturers and wholesalers significantly more.
Specific customization needs
The pharmaceutical industry often needs highly personalized custom solutions to manage and maintain the complex relationships and data transfers between researchers, manufacturers, chemists, wholesalers, distributors, hospitals, healthcare clinics, insurers, pharmacies, and patients. Depending on the goals of the particular business, these operations may vary, as may their security levels. Ineffective business analysis can lead to ineffective software solution development that won't address all your goals.
To cope with all possible challenges, partner with development service providers who can deeply analyze your business needs and offer more personalized and customized solutions.
Wrapping up
The pharmaceutical industry is booming, and software solutions that can simplify and enhance drug discovery, manufacturing, and distribution are in demand. Apart from the obvious benefits of technology, including automation, data centralization, and analytics, custom pharmaceutical software solutions can improve compliance, protect against cyberattacks, and prevent the risk of drug fraud.
When considering pharmaceutical software development, pay attention to the regulations it should comply with. The pharmaceutical industry is strictly regulated, so your development partner should use the appropriate tech stack and have enough experience in this field to guide you through.
Demigos can be this partner for you. Our proven expertise in healthtech and agetech, as well as full-cycle development services, will help you get an effective solution without management headaches. Contact us to discuss your project!