According to CMS (Centers for Medical and Medicaid Services), health expenditure in the US will reach an astonishing 5.7 trillion dollars by 2026. The healthcare market is as huge as it is reliant on public and private insurers, so providers need to follow strict rules to stay profitable. Keeping tabs on the current trends of medical billing is critical for practitioners to optimize the process and be fully reimbursed for their services. Even in 2021, when digital transformation took the industry by storm, many medical establishments are struggling with the complexity of billing and coding.
In this article, we'll explore the latest medical billing trends and the software solutions that help healthcare providers overcome day-to-day challenges.
Healthcare billing: industry overview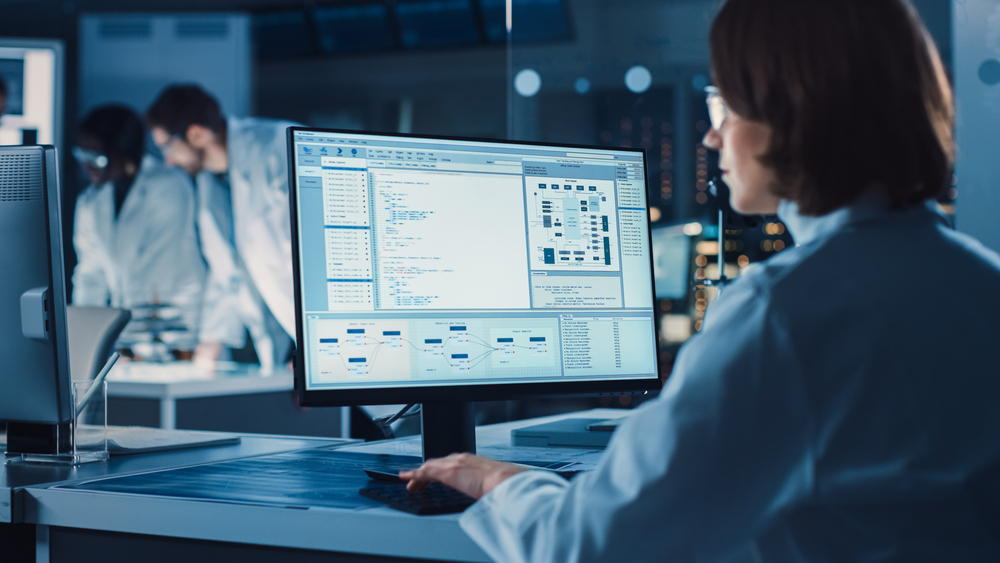 The US has the largest per capita medical spending in the world among wealthy countries—$11,100, as reported by Peter G. Peterson Foundation. Other countries with comparable economies spend roughly half of that amount. Interestingly, administrative expenses average $940, which is an unusually large percentage. Experts attribute these high costs to the complexity of the US healthcare system, and it seems to be a fair assessment.
US healthcare system from the standpoint of medical billing and coding trends
In a country whose population is aging and becoming increasingly prone to chronic disease, comprehensive health insurance should be a must. In the US, private insurance carriers dominate the market, followed by taxpayer-funded Medicare, Medicaid, and other government programs catering to the needs of specific groups.
Read also: How to Develop a Medical Second Opinion Platform
Below is a diagram that shows the inner workings of the US health system: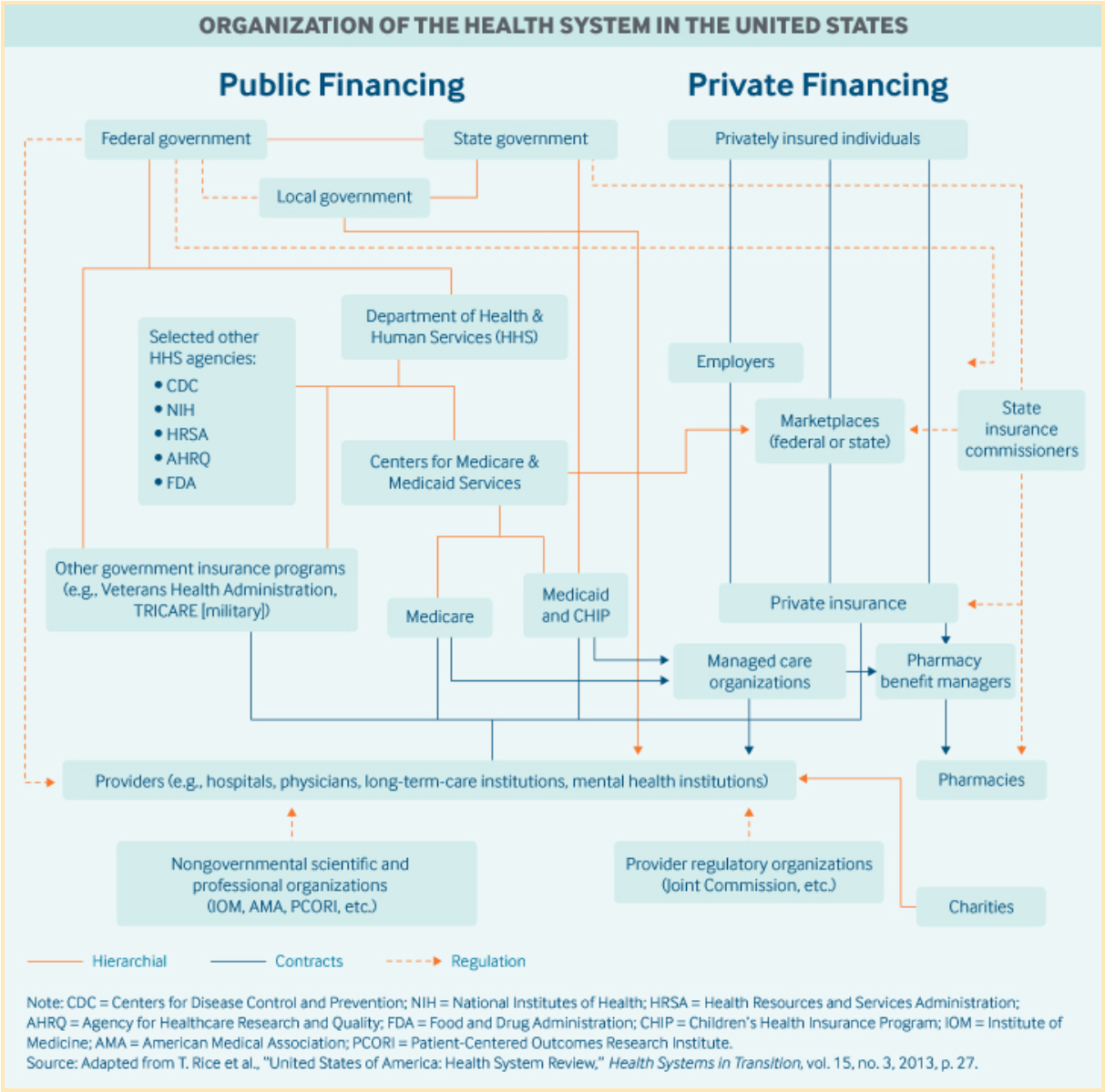 Looks like a maze, doesn't it?
But how does this affect the average medical practice? It means that their billing systems need to be compatible with different funding sources that often follow different claim procedures to collect payments for services. Dealing with denied claims and uncollected patient payments is the reality billers face on a daily basis. The process can get so convoluted that one of the trends of medical billing is that many smaller healthcare providers choose to not accept insurance at all. Larger entities with higher claim density often opt to outsource their billing to third-party contractors.
Medical billing outsourcing
The medical billing outsourcing market is immense, and it's growing quickly. In fact, it's expected to reach 25.3 billion dollars by 2028 with a CAGR of 12.3%, according to Grand View Research reports.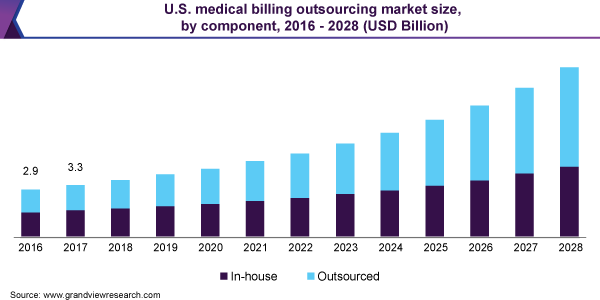 Leading US medical billing companies like R1 RCM, GE Healthcare, eClinicalWorks, Athenahealth, and many others offer to completely take over revenue cycle management (RCM) from medical practices and promise to reduce revenue leakage, especially for larger providers.
Achieving that goal involves eliminating errors in patient registration, insurance validation, and claim submission, as well as managing payment denials. It also requires automating medical coding, a time-consuming process every medical practice, regardless of size, has to go through. But what is medical coding? And why can it incur additional expenses or be a source of errors?
Read also about healthcare technology trends and home healthcare trends.
The US medical coding system
The US medical coding system includes tens of thousands of codes that cover everything from supplies and medications to complex surgical procedures. It's a language consisting of five-digit lexemes that allows seamless communication between healthcare providers and insurance carriers (or patients when they're paying for services directly).
There are four primary code sets:
CPT (Current Procedural Terminology) is a level 1 set of codes introduced by the American Medical Association (AMA) back in 1966. These codes cover Evaluation & Management, anesthesia services, surgery, radiology, pathology and laboratory services, medical services, and procedures. They're broken down into three categories, from those describing the more common procedures to experimental service and performance tracking codes.

HCPCS (Healthcare Common Procedural Coding System) codes are the second level of the coding system created by AMA upon request from CMS. They reflect services and procedures offered by the Medicare and Medicaid programs not included in the CPT range.

ICD-10-PCS codes are reserved for use by hospitals to report inpatient procedures.

ICD-10-CM are diagnosis codes used to establish medical necessity and justify further actions.
Medical coding provides the framework for successful billing for a healthcare provider and normally requires employing a dedicated coder, with an average salary of $54,890, according to an AAPC survey. Of course, coders now use specialized software instead of bulky codebooks, but the job demands other skills, too. Besides being well-versed in human anatomy, medical procedures, and supplies, a certified professional coder (CPC) has to continuously keep track of the changes and updates in the coding system. And 2020 has been prolific in that regard.
The COVID-19 pandemic brought about new diagnoses and procedures, AMA made significant adjustments to Evaluation and Management procedures, while CMS finalized changes to Medicare Physician Fee Schedule. The universal shift to telehealth for outpatient care created additional challenges for medical institutions when billing payers. Many practitioners, desperately trying to keep up with these new developments, are now looking at automated medical coding as a possible solution. The need for automating the most time-consuming procedures is emerging as one of the leading trends of medical billing. Hold this thought, we'll get back to it later.
Even though medical coding is a crucial component of billing, the process is far more complex and consists of many specific steps. Let's look at it as a whole.
The process of medical billing
The groundwork for successful payment collection is laid long before a practitioner writes a prescription or a surgeon makes the first incision. To achieve effective RCM, a healthcare provider should start the billing process at the registration phase. Here are the typical steps of billing:
Patient registration. The initial stage, where the healthcare provider collects patient data like name, age, sex, address, and phone numbers, as well as insurance information.

Insurance validation. This step is critical for clarifying insurance policy coverage and preventing possible issues with payment collection.

Charge capture. The provider records the services and the associated charges.

Medical coding. All services and supplies are encoded into the US medical coding system.

Claims submission. The provider fills out claim forms and invoices insurance carriers.

Accounts receivable (A/R) follow-up. Any residual charges and claims that are not covered in full are taken care of during this step.

Payment denial management. This stage involves resubmitting failed claims and identifying denial reasons to prevent future issues.

Remittance processing. In this step, the provider checks incoming remittance and accepts it or denies erroneous payments.

Third-party payers follow-up and patient collections. When primary insurance options have been exhausted, the medical institution can attempt to bill Medicare or Medicaid and collect the remainder of the debt from patients.

Reporting and analysis. This closing stage of billing is aimed at improving the provider's financial operations by analyzing recurring patterns and issues.
As you can see, medical billing is quite complex and requires a significant effort from healthcare providers. A custom-tailored software solution that helps streamline the billing process, reduce expenses, and eliminate errors could be a possible answer. But before we get to that, let's see what medical billing trends are dominating the market in 2021.
Major technological trends in medical billing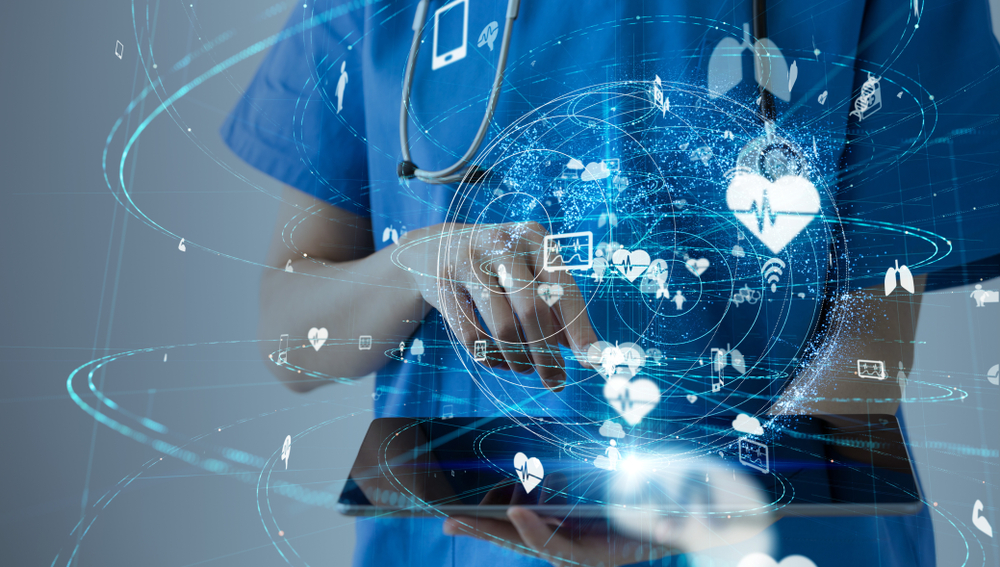 The medical billing landscape has remained relatively static over the past couple of years, but the 2020 pandemic was a shock to the healthcare system. The tumultuous year sped up the industry's digital transformation, brought technological advances, and caused paradigm shifts. Below are some of the essential trends in medical billing that will be shaping the sector in 2021.
COVID-19 and the ubiquitous switch to telehealth
The necessity to move to virtual visits was a major challenge for medical practitioners, but it also left an imprint on medical billing. New CPT codes appeared to reflect the procedural and billing changes, and insurers were pressed to quickly update their policies. The COVID-19 pandemic triggered the emergence of new treatments and protocols, which again led to changes in the billing and coding system. Many claims were denied in the transitional period, leaving holes in the pockets of healthcare providers.
In 2021, medical billing software is expected to incorporate these changes, prevent the resulting revenue leaks, and offer maximum compatibility for the future.
Digital claim submission and electronic processing
By adopting electronic claims in their workflow, medical establishments can speed up filing and pinpoint potential problems at an early stage. Processed by medical billing software electronically, the entire cycle, from initial drafting to tracking claim progress and receiving reimbursement, could be streamlined and made more error-proof.
Automating the billing and coding process
By now, it's evident that automation holds the key to the future of medical billing and coding. Medical personnel shouldn't spend their valuable time on repetitive tasks. By reducing manual labor and ruling out mistakes, software automation can help healthcare providers cut down unnecessary expenditures and help billers focus on more creative tasks.
The great thing about the technological trends in medical billing is that a single principle can be applied multiple times to transform various operations. Another area where billing automation can bring considerable gains is insurance pre-authorization. The process of checking the patient's eligibility and payment limits should be quick and painless, so they can receive the necessary care as soon as possible.
Incorporation of EHR into the billing process
The US government has been increasing pressure on the healthcare sector to implement Electronic Health Records (EHR) over the past decade. Until now, many physicians were reluctant to use EHRs, claiming the systems were riddled with usability issues and required tedious manual input. However, as medical billing systems evolve and offer more automation, integrating EHRs with the billing workflow can be beneficial in many ways.
First, the amount of patient data already accumulated in the system will significantly lower the amount of time that physicians spend on this task. Second, EHRs will facilitate the billing process by simplifying access to medical histories. Overall, the most crucial gains for the healthcare sector come from establishing a seamless flow of data within integrated billing systems.
Read also: Best Practices of EHR Migration to the Cloud
The advent of ICD-11
The eleventh incarnation of the International Classification of Disease has been in the works for almost a decade, a brainchild of 300 specialists from 55 countries. It will come into effect on January 1, 2022, but the US medical system is expected to fully adopt the new taxonomy by 2025. The main implications for healthcare providers are the changes in medical coding, and billing software solutions need to start adapting today.
The move to cloud SaaS solutions
One of the latest technological trends in medical billing, moving to cloud Software as a Service (SaaS) solutions has numerous advantages for healthcare providers. Most of them have to do with the fact that in this model, software vendors are responsible for the infrastructure, hardware, and updates. Here are the most significant gains:
A reduction in spending on hardware and maintenance

Universal, uninterrupted access to the services

Increased data security

No need to purchase newer versions of software
Cloud architecture and SaaS are practically the current golden standard for medical practice management and billing software, and the number of solutions built on this tech will only be increasing.
Use of artificial intelligence
AI has proved its value in multiple industries, and it's becoming one of the latest medical billing and coding trends. The technology is already being used in many billing solutions, and its scope of application will continue to broaden in the coming years. Here are some of the things AI can do for medical billing thanks to its sub-disciplines like machine learning and natural language processing:
Recognize, extract, and structure patient data in scanned documents

Facilitate and prevent errors in medical coding

Drastically reduce the time spent on manual entry

Analyze data and make predictions concerning denials and reimbursement amounts
Self-learning is one of the greatest benefits of properly built AI functionality. By gradually reducing error margins over time, it is capable of achieving higher efficiency for a billing system without additional investments.
Clearly, most of the up-and-coming trends of medical billing are rooted in the more effective use of digital technology. Let's take a minute and see what types of solutions the market has to offer and how they're embracing those trends.
Software solutions to improve your facility's RCM
As the advance of digital transformation continues in the healthcare industry, providers are increasingly finding themselves in need of outside IT assistance. It comes as no surprise that profits in healthcare IT are projected to grow from $14 billion in 2019 to $28 billion by 2024. All evidence points to the conclusion that the help of IT professionals is quite tangible, and their services are critical for changing the industry.
Depending on the size and type of your organization, its workflow, billing needs, and issues, there are several software options you can choose from. Strictly speaking, there are no standardized categories, so we've listed the most common types of solutions, along with short descriptions of their functionality.
Medical billing applications
Being the most specialized type of solution on our list, software of this kind tackles the specific issues associated with medical billing. With a pin-sharp focus on streamlining the financial operations of a medical facility, such applications typically include the following modules:
Claims management. An end-to-end solution for your personnel to fill out and file claims, as well as to monitor progress and work with denials. Best-in-class software uses extensive rule databases and AI for accurate claim submission and success predictions.

Medical coding. This software can greatly reduce and even eliminate errors in the coding process.
Billing and payment tracking. By automating these operations, a medical practice can prevent revenue leakage and save resources.

Accounts receivable. This software can also assist in collecting payments by sending reminders, offering payment plans, and processing electronic transactions.

Performance reporting. Medical billing applications can measure and track important KPIs, analyze cash flow, and use the data to optimize your facility's financial performance.
By implementing a software solution for your medical billing, you can significantly cut operational losses and focus on providing high-quality care to your patients.
Revenue cycle management software
RMC solutions encompass the functionality of medical billing software and surpass it by adding several features essential for managing the revenue cycle.
Seamless integration with EHR/EMR software facilitates the exchange of data with the billing system.

Insurance eligibility and pre-authorization tools help ensure the revenue collection process starts on the right note.

Advanced A/R management provides more options for your facility's staff and patients to successfully resolve payment issues, like analytics dashboards and a dedicated payment portal.

Clearinghouse is an in-house intermediary service intended to save time spent on remittance procedures.
There may be other additional services in different RCM solutions, but the key to understanding their main value lies in the name. They are all about supporting a medical facility throughout the entire cycle of financial operations. All variables are accounted for, and no one gets left behind.
Medical practice management systems
If you're in the market for a holistic solution to manage your medical business from A to Z, this is the option for you. Practice management systems usually cover everything from appointment scheduling to cataloging patient data, automated billing and claims processing, and include powerful data analytics tools. It's not unusual to see a fully functional patient portal and tools for managing administrative expenses in such systems, either.
Read also: How to Build a Healthcare Analytics System
To keep so many balls in the air, the software should be built using cloud architecture. It should also comply with the latest security standards, have AI-powered modules, and utilize big data capabilities.
Migrating to a new practice management system is a serious commitment, and software providers are aware of that. A reputable vendor can help with converting your data, integrating telehealth services or other third-party software. With SaaS solutions, you also have the benefit of delegating all maintenance, support, and update procedures to your software partner.
Existing software that includes all the features you require can take some time to find and may come with a hefty price tag. Another option you could consider is building a solution that will be uniquely adapted to your specific business conditions. This way, you'll be able to directly participate in the process, enhancing functionality that addresses your pain points and avoiding redundant modules. Finding the right software partner is the next logical step.
Read also about home healthcare trends and healthcare technology trends.
Demigos' CEO: expert opinion
"It's a known fact that healthcare in the US is the most expensive worldwide. Conversely, the profit margins of healthcare providers are extremely low. From what we know, administrative expenses devour a large portion of the profit. Due to the complexity of the US healthcare system, the medical billing process is both resource-heavy and time-consuming.
All things considered, a holistic software system not only can help minimize the time spent on manual billing but also reduce errors and boost profitability. As all healthcare providers are looking for ways to improve their efficiency and overcome revenue challenges, optimizing their administrative expenses is a number one priority. Patients are already avoiding care due to high cost, so constantly raising prices won't work anymore." — Ivan Dunskiy
A chance to move with the times
A custom-built software solution designed to meet the specific needs of your medical business can be a very cost-efficient way to resolve your billing challenges. Whether you're a medical practice or a medtech startup, Demigos can offer guidance and technical expertise, ultimately helping to achieve your objectives. With our experience in healthcare IT, we are ready to build software of any complexity within a realistic timeline. We'll help you assess your billing process, identify bottlenecks, and devise a winning strategy.
Contact us today, so we can start creating together!