Electronic health record (EHR) systems, IoT devices, AgeTech solutions, and other software used by your healthcare organization collect or store information that is essential for doctors to make informed treatment decisions and for managers to deal with administrative tasks like billing and creating insurance claims.
Naturally, this data needs to be stored securely and be accessible to authorized workers. Sometimes, to achieve this, an organization needs to go through a healthcare data migration process.
It may be tempting to dive into the implementation stage as soon as possible. But before that, you should know how to develop a working healthcare data migration strategy and what to expect down the road.
The Demigos team knows that migrating healthcare data into a cloud or from one system to another should always be a well-planned process. But what best practices to consider? What pitfalls to expect? What tools to use? That's exactly what we're going to explain in this article.
But let's start with a brief definition of what healthcare data is.
What is healthcare data?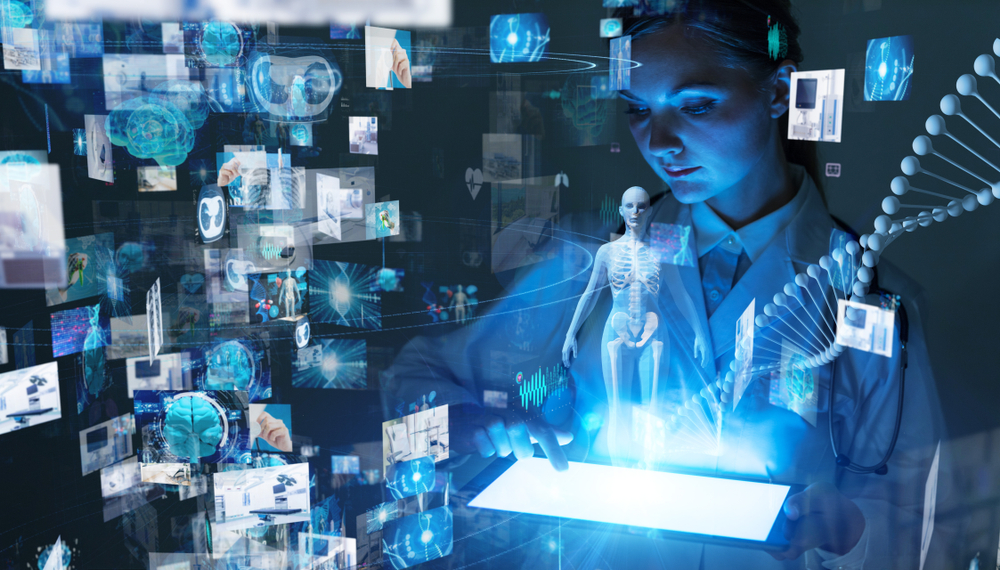 Before we dive deeper into the healthcare data migration process, let's review what healthcare data actually means. Typically, its definition covers the following:
Patient medical history – including clinical and demographical data kept on paper or in electronic devices (EHRs, cloud or hardware storage, CRM platforms, etc.)

Collective health records of a community (on a local and global scale regarding the demographics of diseases)

Data that results from the business activities of a healthcare organization or business associates providing tech or legal support (strategic planning, R&D, financial operations)
Understanding what healthcare data is necessary for planning data migration in the healthcare industry on a local, national, or international level. It's also crucial for medical organizations that need to know what legal regulations are applicable.
In the US, for instance, the data migration process from EHR to EHR and related transactions that involve protected health information (PHI) should comply with the Health Insurance Portability and Accountability Act (HIPAA) and state laws. In Europe, similar actions are protected by the General Data Protection Regulation (GDPR) and the laws of EU member states.
Now we've covered what healthcare data is, let's review the most popular reasons medical organizations go for data relocation.
Reasons to relocate healthcare data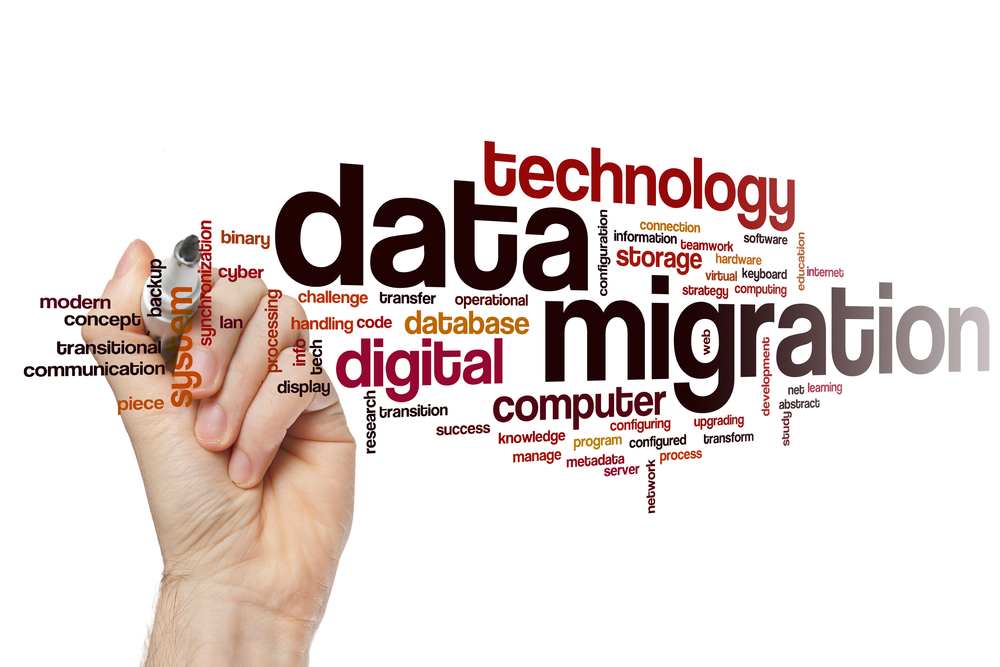 Around 30% of global data is generated by the healthcare sector, and the estimated compound annual growth of 6% puts it at the top of the list of the most data-producing industries by 2025. Considering that the amount of data worldwide is expected to reach 175 zettabytes (175 trillion gigabytes) in 2025, this figure is quite impressive.
Naturally, healthcare organizations need to think about how to manage its storage, accessibility, and safety, so the collected data can be used and reused. But this is only one reason for data migration in healthcare. In practice, there are many others, so let's take a closer look.
Reusing data
The more data that is generated, the more insights the healthcare industry can have. According to the European Commission, innovation in healthcare is impossible without the proper processing and reusing of data which gives decision-makers a factual base for improving the effectiveness and ensuring the stability of the healthcare system. However, it's possible only under one condition: if there are safe interoperable cloud data environments on local and global levels and an infrastructure that allows secure data access, transmission, and processing. This is why data migration shouldn't be a provider-only concern but a global healthcare strategy.
Increasing storage capacity
Data migration in healthcare is one of the ways to scale up the storage capacity of a healthcare organization. With rapid medtech development, the existing systems may not have enough space to store all the data generated by the medical facility, to say nothing of the expected volume uptick in the near future. To cope with the ever-increasing business needs, hospitals and clinics may need to migrate their data either to another system or to the cloud.
Ensuring system interoperability
Accessibility is one of the six major criteria of data quality. The latter is important for the healthcare sector as the stakeholder decisions are made based on the information they operate with and have access to. For example, if doctors don't have access to the whole patient's history, there's a greater risk of assigning a treatment that will cause more harm than good.
The problem is that accessibility doesn't go well with old legacy systems as they:
Rarely allow for integration, which, in its turn, decreases interoperability

Aren't user-friendly despite having substantial datasets
That's why many organizations that want to improve data accessibility consider a system upgrade. This process entails moving the data to a cloud, a connected network, or a new electronic medical record system that allows for interoperability and ensures the further use of information by authorized stakeholders.
Analyzing data
Data means nothing unless it's structured and analyzed, but it needs to be stored somewhere that allows that. Not every data storage solution currently used in healthcare is capable of structuring the collected information and preparing it for further analysis. Analytics is critical for any healthcare organization as it:
Helps assess the performance of an organization

Highlights interventions needed to boost efficiency

Allows for a holistic approach toward treatment processes

Helps prevent and avert hospitalization by collecting and analyzing health measurements
The need for analytics pushes organizations to switch to healthtech solutions in which analytical algorithms do automatic data analysis according to chosen criteria. In many cases, this process includes data migration from the old legacy systems.
Complying with regulations
Some laws require organizations to store business documents or patient records for a specific period. For example, under HIPAA rules, business associates and covered entities should store the healthcare records for a minimum of six years from their creation date or the time it was last in effect (whichever is later). Consequently, many hospitals and healthcare organizations switch to cloud storage for that to avoid clutter and ensure convenient document workflow.
Since the regulations cover not only what should be stored, but also how it should be stored, the old legacy systems may not have a compliant technical base. To avoid compliance claims and fines, organizations should switch to compliant solutions and, as a result, migrate the data.
Switching an EHR
For any modern medical organization, it's critical to use healthtech tools that can bring better outcomes and optimize workflow. Medtech is constantly evolving and offers better solutions in terms of performance or cost, which is why hospitals may want to change EHR partners, build new or modify their current solutions. All that entails the EHR data migration.
Completing business transactions
Relocating data during mergers and acquisitions (M&A) is standard practice. The M&A processes take place when private or state healthcare organizations change their status, owners, structure, merge into one joint entity, or undergo other changes. Most of them require moving digital data from system to system, which covers the extraction of data from the source followed by a conversion process (converting the documents into the accepted format) and sending them to their intended storage.
Data migration should be a step-by-step process to bring the desired results. Let's see what stages you should plan while relocating healthcare data.
Phases of healthcare data migration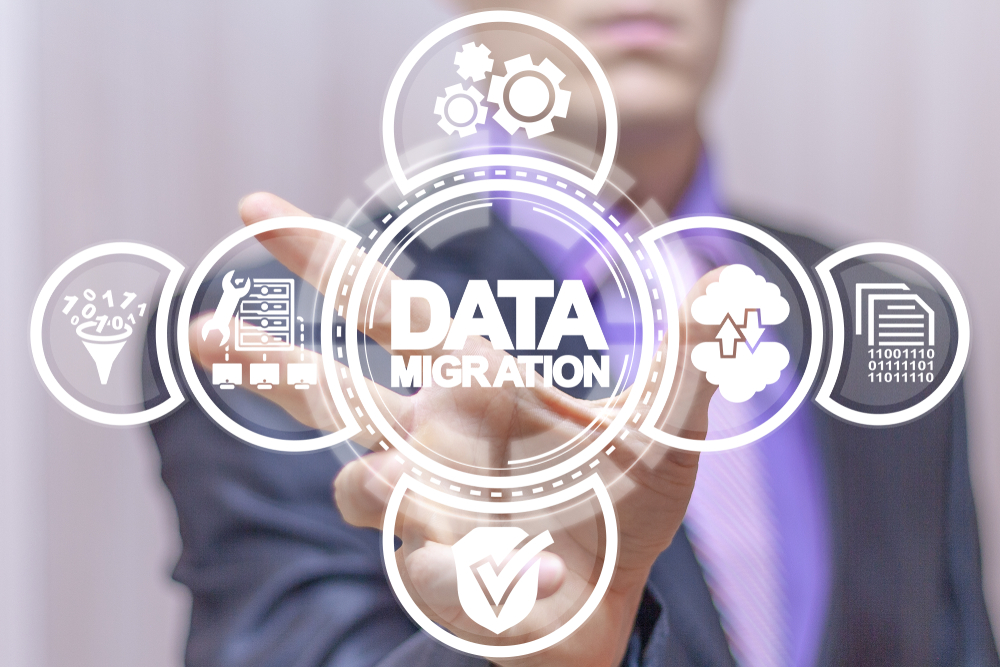 The data relocation process requires creating and following a strategy that will assure seamless migration without missing data or experiencing system failures. Here are the four phases of successful data migration.
Stage 1. Data analysis
Not all data sets need migration — some are required to remain in the original legacy systems or on in-house servers. During the data analysis stage, it's necessary to understand which data should migrate to other platforms and portals, which data should be destroyed, and which data is the most valuable from a long-term perspective.
Stage 2. Data structuring
Since healthcare data is usually heterogeneous, you need to structure and classify it before uploading it into the new storage. The successful completion of this stage will help you to sort out the data after relocation.
Stage 3. Data conversion
Data migration platforms for healthcare often work only with particular data formats. That's why, to assure easy transmission, you need to convert the information from the old system into the required format. It's important to make sure that no data is lost during this stage.
Stage 4. Data migration
When data is analyzed, filtered, structured, and converted, it's ready to be moved to its desired destination. The methods and complexity of data migration will depend on the following criteria:
Data volume

Data format

Source location and desired destination

System requirements

Data migration tools, etc.
The question is, which tools should you use? Let's explore the options.
Healthcare data migration tools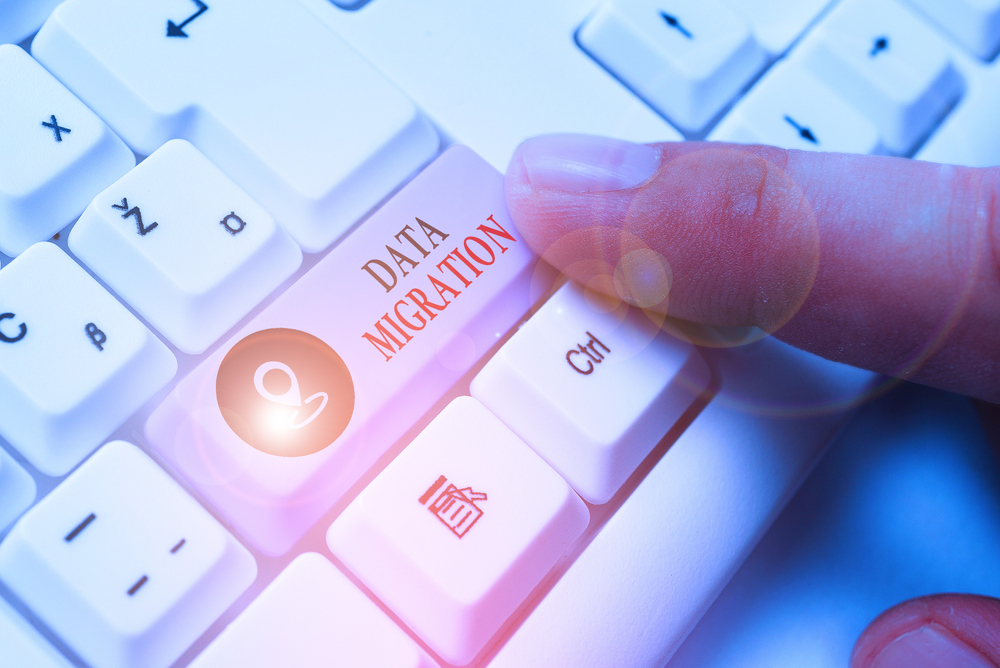 The choice of healthcare data migration tools will depend heavily on the amount of data that needs to be relocated, its quality, your budget, and your strategy. Here are the three most common options.
Self-scripted tools
When you have a small volume of well-structured data, your in-house team can come up with self-scripted tools (usually, a simple code written to arrange few-step processes). They are the simplest solution for relatively insignificant amounts of data, but high data migration quality isn't usually guaranteed. This is why you should always back up the data prior to relocating it using self-scripted solutions.
On-premise software
If the aim is to solely relocate the static data, software solutions created for this purpose might be an option. Fivetran, IRI NextForm, IBM InfoSphere, and Microsoft SQL are the most popular on-premise data migration applications on the market.
Usually, these solutions are used during M&A where the data relocation is happening within the same network and enterprise. They are also the last resort for cases where cloud tools can't be used due to legal requirements.
Cloud solutions
Cloud-based data migration solutions are the most advanced option on the market as it allows for automated conversion of large data volumes. AWS Data Migration Service, Google Cloud VMware engine, StarfishETL, Carbonite are cloud solutions that transfer homogeneous and heterogeneous datasets to and from the cloud, ensure backups, and maintain the whole data infrastructure.
As with on-premise solutions, you need to make sure that you use cloud storage and data migration tools that are HIPAA-compliant. Be aware that cross-state data relocation may be restricted or be subject to specific policies.
The sensitive nature of medical data and high volumes pose a few healthcare data migration problems. Read on about this complicated side of data relocation.
Healthcare data migration challenges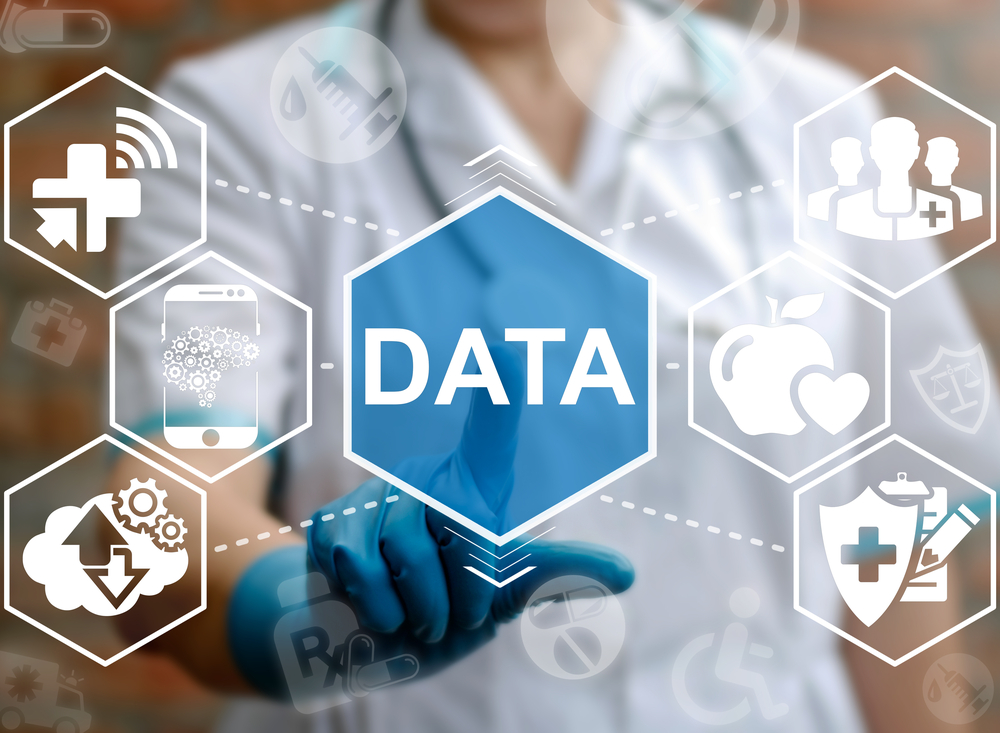 One of the reasons healthcare organizations still rely on their old legacy systems instead of switching to modern solutions is the complex process of data migration and the challenges that arise. Below are the most common.
Poor planning
Poor planning of the data migration process causes a lot of problems. Here's the list of the most common:
Some data may be lost due to the wrong choice of data migration tools

The real data volume needs more resources and time than expected, leading to downtime and higher costs

Poor mapping out of data distribution may create unnecessary duplicates or data loss/alteration
However, data migration isn't as scary as it seems if you apply a systemic modernization approach and plan out the process. This requires collaboration with the chosen provider to come up with a migration plan.
Poorly structured and low-quality data
There are plenty of sources that generate healthcare data: medical IoTs, EHRs, monitoring devices, etc. Naturally, all this data comes in various formats and forms that should be structured to ensure a smooth transition. Lack of structure in datasets is often the biggest stumbling block on the way to a seamless relocation.
Stringent data regulations and security requirements
We already mentioned that healthcare data is subject to HIPAA and GDPR, but they aren't the only regulations that govern the process. HITECH Act, CCPA, the Stark Law, and other acts should also be taken into consideration when relocating the data. Another problem is that not every data migration tool available on the market is compliant, and not all data may be relocated to the cloud or other solutions.
The challenges aren't plentiful, but each puts the process at risk. That's why it's essential to hire specialists that know about the peculiarities of data relocation in healthcare and the need for step-by-step systemic planning of the process, as well as most suitable solutions and tools. The Demigos team has come up with a list of best practices for healthcare data migration that will avert unwanted outcomes.
3 Best practices for successful healthcare data migration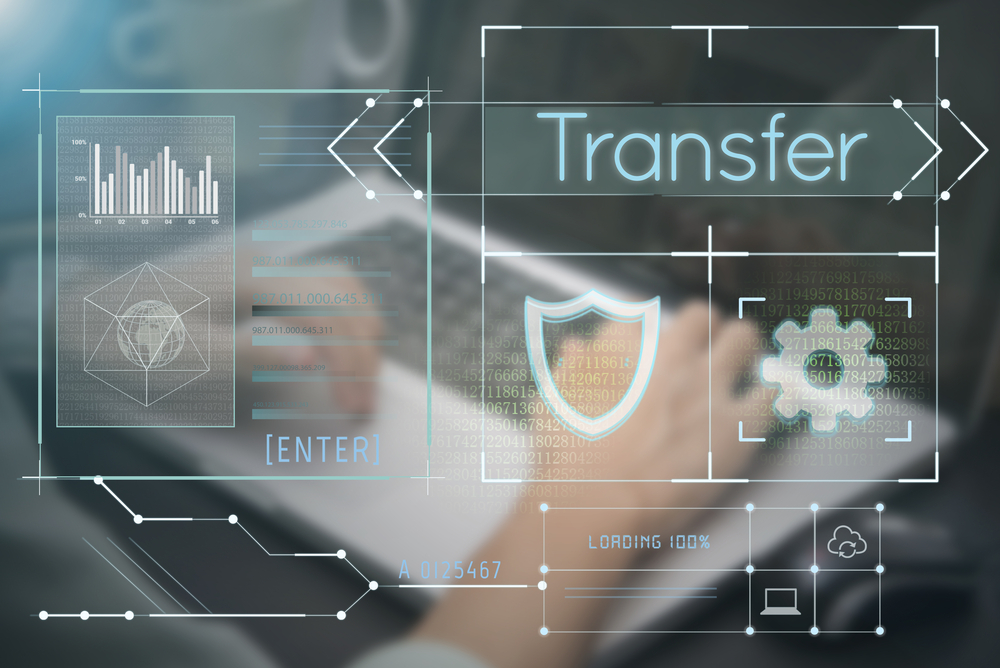 Taking into account the current state of medical IT, the company's future business goals, and budget is necessary, but these aren't the only factors that should influence choices when it comes to data relocation. Here are other strategies to consider.
Apply a long-term approach
The ultimate goal of migrating data isn't the need to move it to a new place — it's the need to modernize your approach to the way your organization manages data. So, when you think of healthcare data migration, always consider the following:
Company strategy for the future (5-10 years)

Market stats of healthcare data and analytics

Company's current needs and pain points

Tech trends and forecasts

Decision-maker's initiatives and government healthcare plans for the near future
Bearing all that in mind will allow you to choose solutions that don't just cater to the current needs of your organization but are also future-proof.
Define the data that needs relocation
Not all data that the organization produces or receives requires long-term storage, so it makes no sense to migrate data that can be destroyed. Understanding what datasets should be relocated will save a lot of resources from being spent in vain. You also need to define the new destination for all categories of data that are subject to migration, so the developers have no confusion about where to relocate every piece of information.
Schedule each step of the plan
As you or your tech partner come up with the migration plan, set realistic timelines when each of the steps should start and finish, what outcomes you expect, and a recovery plan to apply if something goes wrong. This will help you to estimate approximate deadlines and will keep you on track with the desired outcomes. Besides, scheduling each step will help minimize the process' impact on ongoing processes, like lack of access to databases or cloud use during relocation.
Data migration shouldn't be a burden
The reasons for healthcare data migration are different. Some medical organizations seek upgrades, others need to move data due to corporate changes, while the rest want to back up the data or implement advanced data analytics.
No matter what drives these changes, this process is rarely easy, especially when you have to deal with large volumes of data. To overcome related challenges, we advise you to create a migration plan, define the data for relocation, and partner with a reliable tech provider that's not only tech-savvy but also competent in the legal requirements and industry standards.
Whether you need to switch to a more effective storage system, change EHR vendor, or move to the cloud, the Demigos team is ready to apply healthcare data migration best practices to help you meet your objectives with custom solutions. We have enough expertise in healthtech to make data migration nothing but a smooth journey. Contact our consultant today, and let's plan the big move together!