Investing in digital marketing is a great and affordable option to advertise the brand. Although, sometimes people have no idea about their Return on Marketing Investment (ROMI), hence keep budgeting for a marketing channel that doesn't positively influence conversions.
This is a common problem for small and medium businesses on the overheated markets of the US and Canada in terms of raising taxes and competition met in highly popular advertising channels, e.g. Facebook and Google. In this case, end-to-end analytics comes in handy and allows keeping track of marketing campaigns and their effectiveness.
Based on our expertise, we tend to demonstrate how end-to-end analytics can benefit the business and why it is so crucial to implement it. But before that, let's start with the fundamentals of the mentioned analytics.
Defining End-to-End Analytics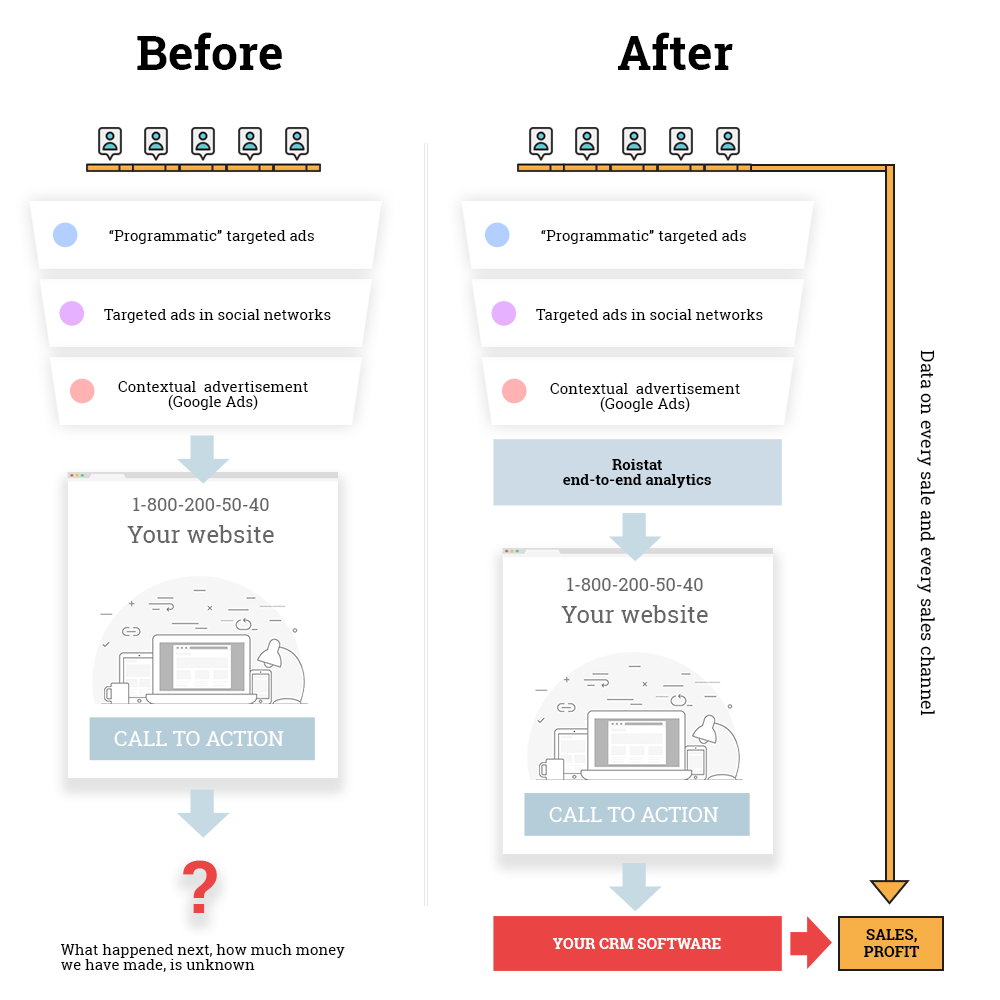 As a marketing tool, end-to-end analytics aims to collect all data about a user's online behavior, advertising costs, executed orders comprising information about offline sales, telephone conversations, and newsletters in one unique system. Not only can it help to evaluate the return on investment, but it also allows monitoring the effectiveness of every single advertising campaign.
The other benefits end-to-end analytics can bring to your business include:
Analysis of online sales. With end-to-end analytics, business tracks the popularity of certain products and services, as well as figuring out which of them are more efficient from the point of investments. The monitoring allows deciding on a specific part of the business the companies should focus on.

Increase in ROI. Analytics lets companies detect and exclude costly and futile advertising channels.

Fraud identification in the PPA advertising pricing model. The entrepreneurs can keep an eye on every single sales stage and determine the resource that has a greater impact on the outcome.

Insights on how to boost e-commerce sales. End-to-end analytics ensures transparency which avoids taking intuitive decisions. Now, you can lean onto precise information. With the analytics set up during your ad campaign, you also get an opportunity to retain as many customers as possible.
All you have to do is just focus on cross-sales, display what your customers usually purchase on the site to let potential clients know what's now popular on the market, collect and share your satisfied consumers' feedback to sound more reliable, etc.
In addition to the above-mentioned benefits, this end-to-end analytics guide based on our professional experience aims to give you a few recommendations on how to set up the analytics within your own company. So, let's move further on.
Read also: Healthcare CRM Software Development Guide
See how we developed agro commodity marketplace and caregiver scheduling software.
Before Implementing End-to-End Analytics
When trying to improve the advertising campaign independently, small and medium-sized businesses throw a whole heap of money while not even having a clear understanding of what channels mostly affect their sales. This is when end-to-end analytics can help and be of use for marketing specialists.
As far as the analytics' main element is CID or client ID, it brings together users' settings while they're visiting a website. Users' data can be further used to analyze the ad campaign in the context of the target audience, user's behavior, and more. So, here's what you can do with the users' settings or parameters:
Associate them with the product card in your Customer Relationship Management (CRM) software.

Submit the completed transaction data in CRM along with CID to Google Analytics. On top of that, ensure data transfer from the payment system to GA as well.
In addition to the above-mentioned steps, consider the reports recommended for use in GA so that you can greatly improve your end-to-end analytics.
Must-Have Reports in Google Analytics
Customer Behavior, Mobile Performance, and Page Timing Reports for determining the performance of the website and patterns of consumer durable purchase.

Content Efficiency and Traffic Acquisition from Social Media Reports for discovering how content works.
Referring Pages and Keyword Analysis Reports for monitoring how SEO performs.
When set up accurately, Google Analytics truly becomes a robust system allowing you to handle the inputs from nearly all sources as long as you meet the terms for parameters outlined in the Google reference book. If done right, you receive a system that provides you with a clear idea of clickthrough rate parameters, conversions, and ROMI in terms of investment information.
Handy Hints to Configure End-to-End Analytics
There is nothing better than someone's real case, especially when you strive to come up with a successful analytic business solution. Our own case at Demigos proves the significance of implementing end-to-end analytics and lets you look inside the process of managing and optimizing ad campaigns.
We have started to collaborate with Skylynx in autumn 2018. This is the company that offers transfers to Whistler, a Canadian ski resort, which is a relatively new line of business. That is why we had a task to build a website in the shortest possible time. With all the necessary information shortly gathered, we started the site in under a month.
When the site was already working, first reservations came from referrals and promos at Vancouver International Airport that ensured the flights' departure. A little later, Skylynx came up with the ad campaign but failed to monitor a return for each of the channels. To avoid ineffective advertising investments, we implemented end-to-end analytics so that our clients could additionally monitor the average bill and the effectiveness of their campaigns.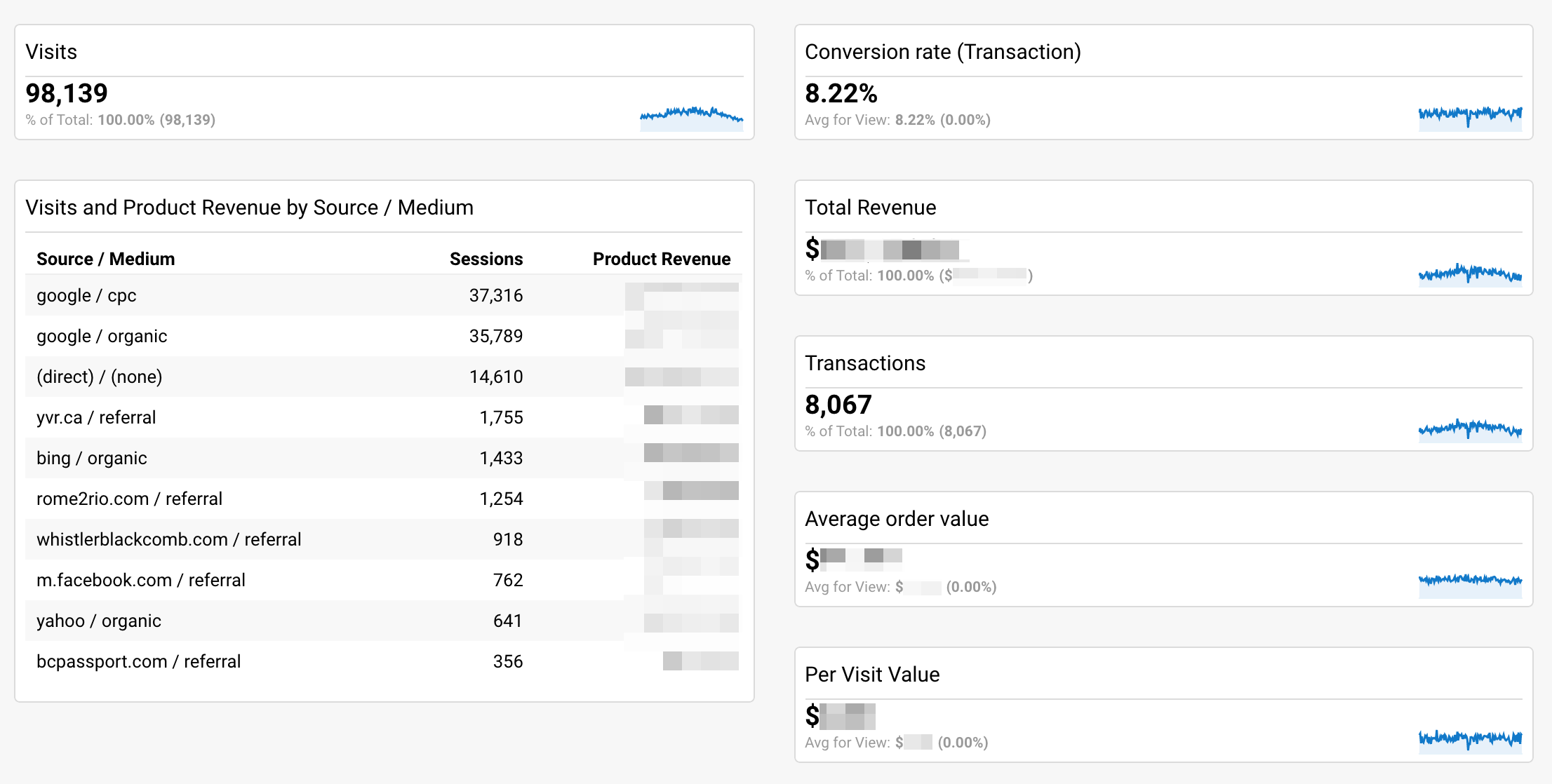 This specific screenshot showcases the number of visits and product revenue per online channel. The other data includes values for transactions, total revenue, average orders, etc.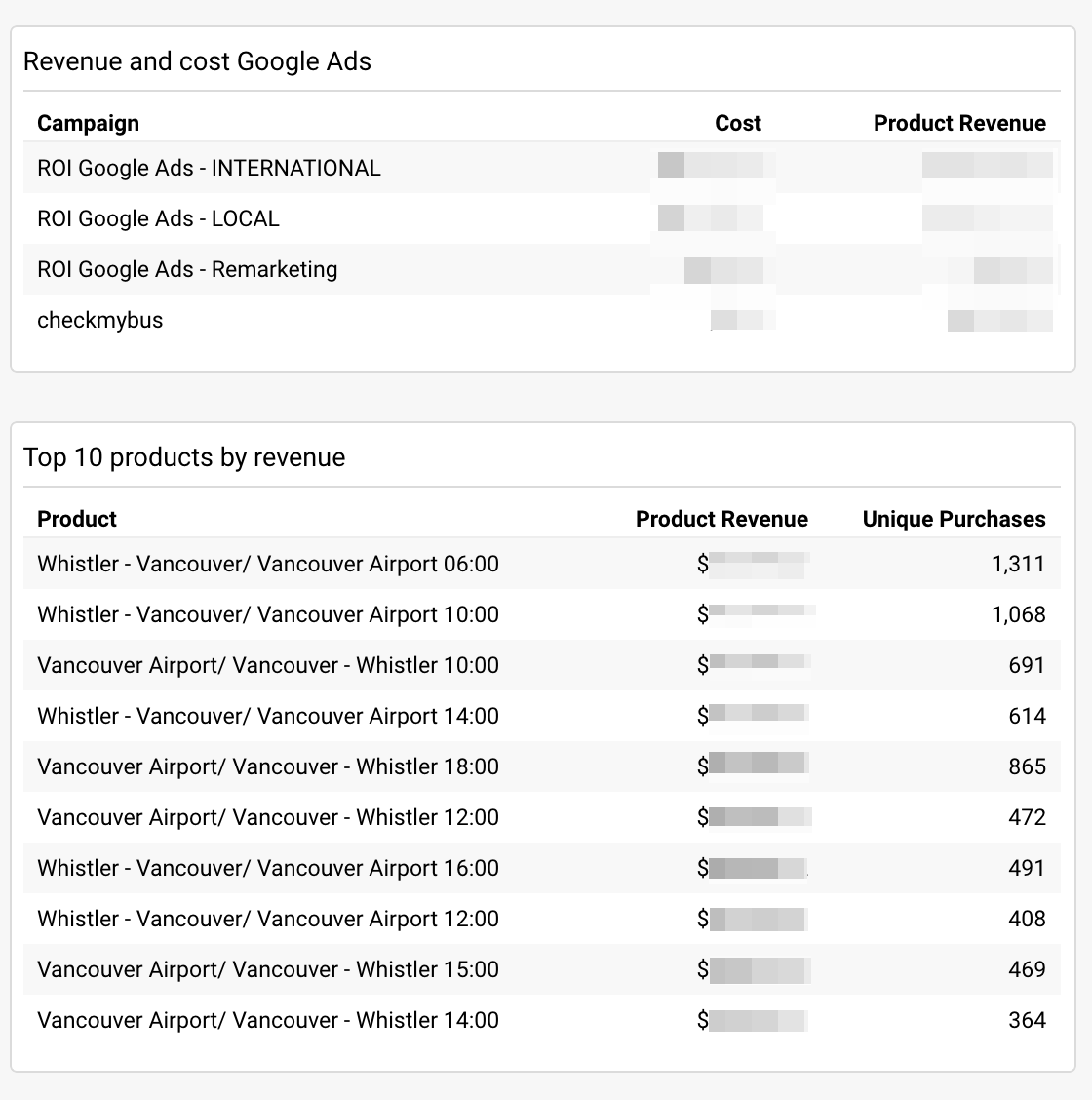 The data displayed on the screenshot will let you know how to analyze Google Adwords. The information pulled from the same-name platform includes all in-service ad campaigns, investments, and ROI for any of them. Besides, you can find the most popular company products based on customer's demand.
Among other things, the end-to-end analytics setup for ad campaign helps to keep track of SEO activities and their effectiveness.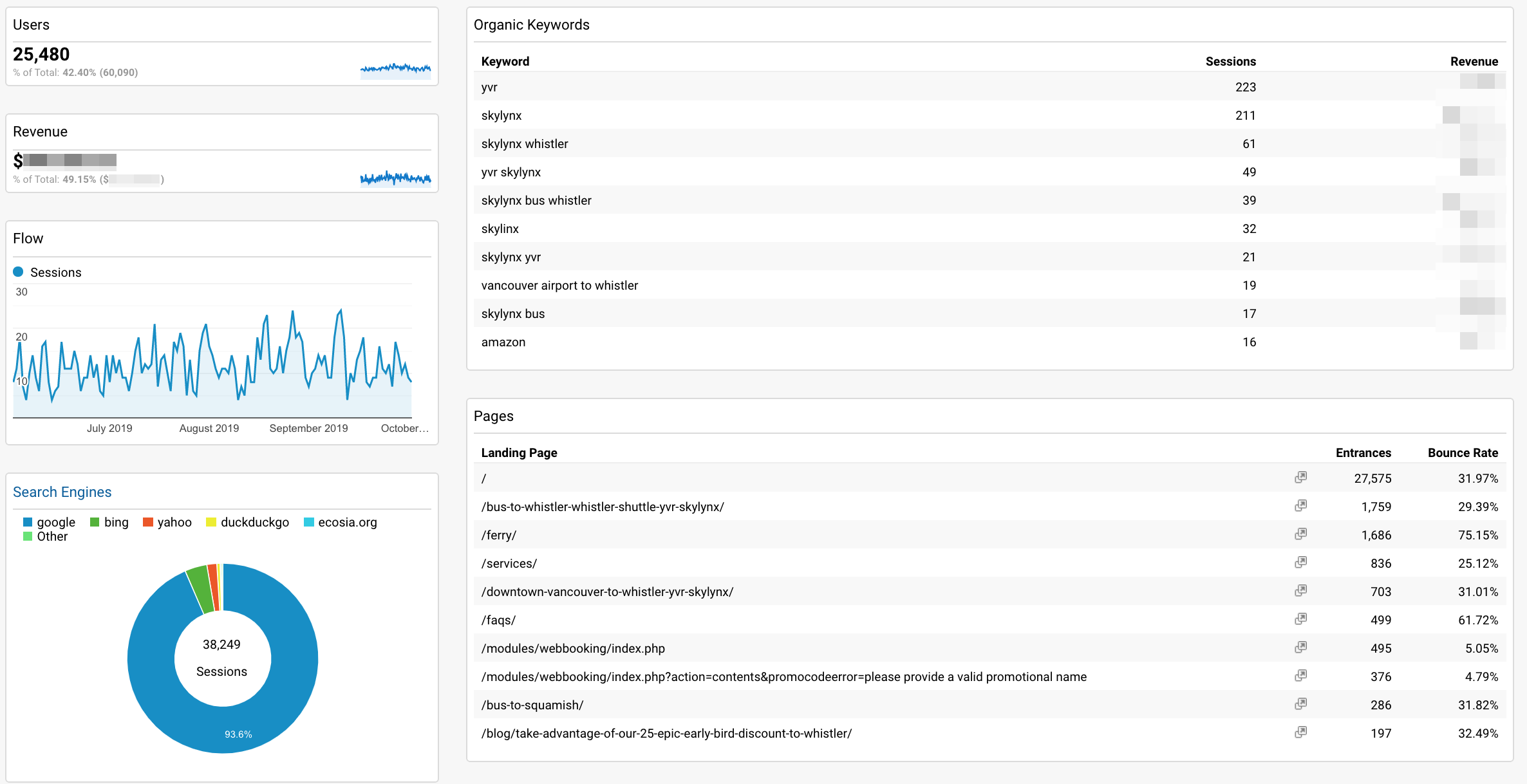 When you have a look at this screenshot, you can see all sessions from SEO traffic, organic keywords that bring web users to a site, the number of sales per channels, as well as certain pages the consumers view. In the lower left-hand corner of the screenshot, you can notice a chart showcasing visits distribution for a variety of search engines.
Contextual advertising
This full report demonstrates what resources are popular among various age categories. The diagrams also include data about the cities and devices used to visit the site.
Social media advertising
In this report, you will find what traffic social networks bring to the site. So, it becomes possible to monitor what social media pages the users visited before getting to a website and what devices they leveraged.
Referral programs and others
Among other marketing channels, companies often go with referral programs buying ads from a variety of referral resources. This kind of investment is no exception, so the companies should clearly understand their effectiveness. So, the reports created using end-to-end analytics can give you an idea about what traffic the partners drive and what revenue this traffic brings. From the point of ad channels, the analytics also allows monitoring the popularity of the pages.
What's even better about end-to-end analytics is that it lets you see the effectiveness of advertising investments within every single channel and allocate funds on marketing efforts correspondingly.
Read also about telemedicine module integration into EHR and custom hospital patient management software development.
Final Thoughts
For those of you who keep spending a fortune on web advertising of business projects, implementing end-to-end analytics will be a real prize. You will finally understand what channels drive the most significant traffic to your business, hence will be able to spend money wisely. In other words, spend less — earn more.
But only in the case of regular use and correct setup, end-to-end analytics may be helpful. Based on our professional experience, we can conclude that the analytics incorporated into a marketing campaign allows:
redistributing funds for marketing

increasing income

understanding user's behavior

targeting users by the collected and analyzed data
Because implementing end-to-end analytics may cause many concerns about what technology is better to use or how to analyze the effectiveness of money allocated to ads, make sure to contact our experts for a consultation. It will give you a clear understanding of what to start with. Feel free to contact Demigos for any healthtech and agetech related projects.