Aliro
Platform tailored to agro-commodity traders
Prologue
Aliro is an international marketplace and trading platform for verified buyers and sellers of agricultural products. It connects producers, brokers, distributors, wholesalers, brand name manufacturers, and government trading houses from all over the world on a wide range of product categories including grains, oils, spices, cereals, sugars, seeds, flour, fruits & vegetables, and many others. The current focus is gaining traction in the markets for grains, oils and flour.
Aliro's user-friendly digital environment enables companies to conduct transactions from beginning to end within the platform by integrating all parties involved: buyers, sellers, banks, and surveyor agencies.
Challenge
01
Make a solution for market needs.
We conducted thorough interviews with many potential customers to understand how the market works and what users' needs are in order to build a useful and convenient product.
02
Provide solutions for international customers.
To allow global scalability, the platform supports multiple languages and automatically translates an offer made in one language to the language of another party. All company information, product details, and map locations are presented in the user's language.
03
Develop a unified, complete, user-friendly solution.
To provide seamless usability, Aliro's features had to be integrated into a single flow - from a product request to a successful delivery - with embedded messaging and compliance systems.
Features
Aliro is a platform for agricultural companies from different countries to buy and sell their products.
Companies register and are required to pass verification by Aliro to engage in any activity in the system. Aliro compliance managers review company documents and approve the company or require additional information.
Companies post their listings of either product requests or offerings. Listings include name, grade, specification, quality, cultivation, delivery basis, delivery destination, price on this basis, volume, country of origin, and so on.
Companies can make an offer based on a listing they are interested in.
Offers become complete contracts through a negotiation process, and contracts go through the full cycle, from the initial offer to a signed and executed deal.
The messaging system integrates all parts of Aliro. Companies can chat with each other as usual, but there's also a separate channel for each type of activity - a contract or a tender, company validation, or support tickets.
Whenever a new event happens, such as a new offer being sent, or a company proposing to change terms for a contract, it is delivered as a message, and it can be answered there.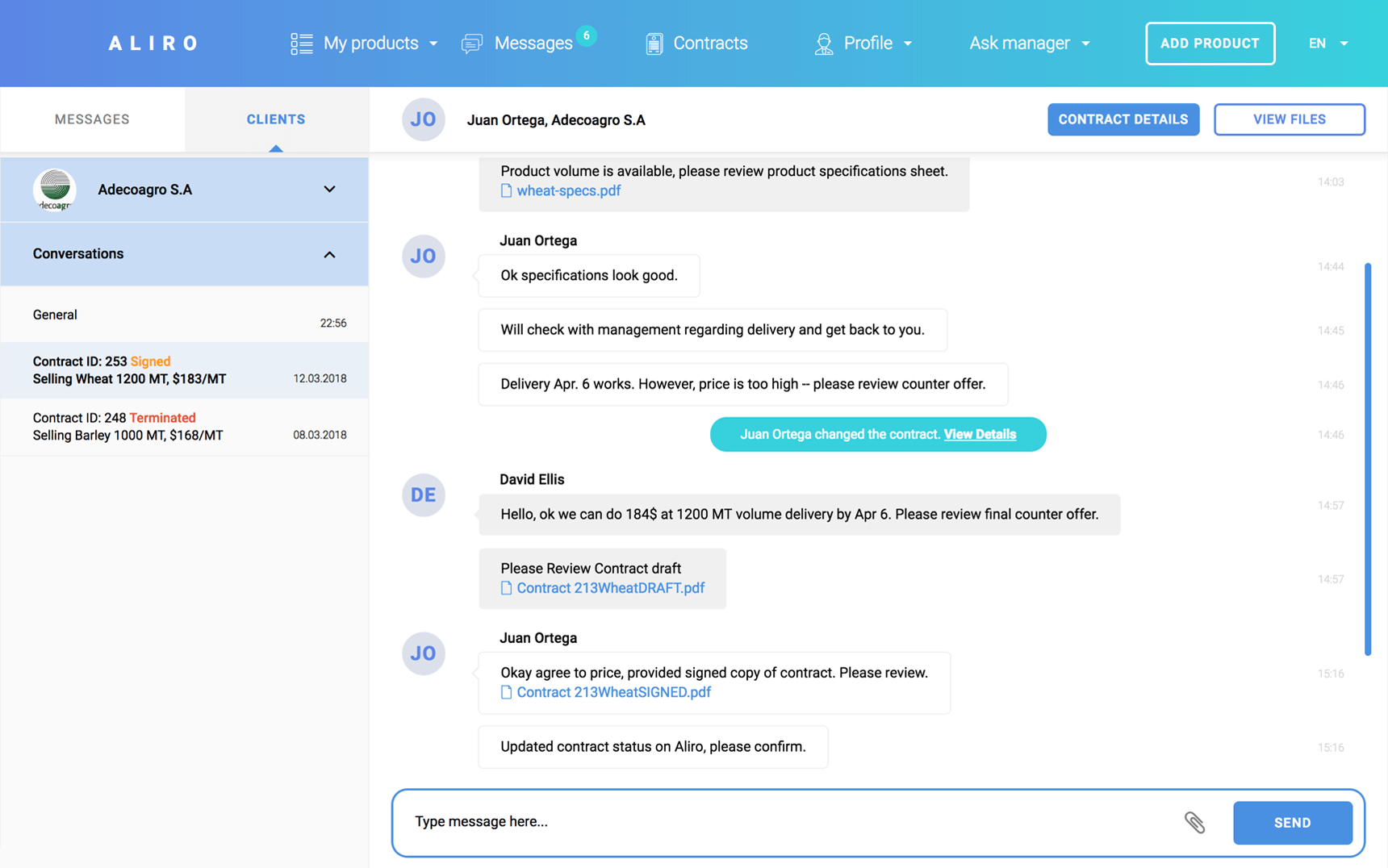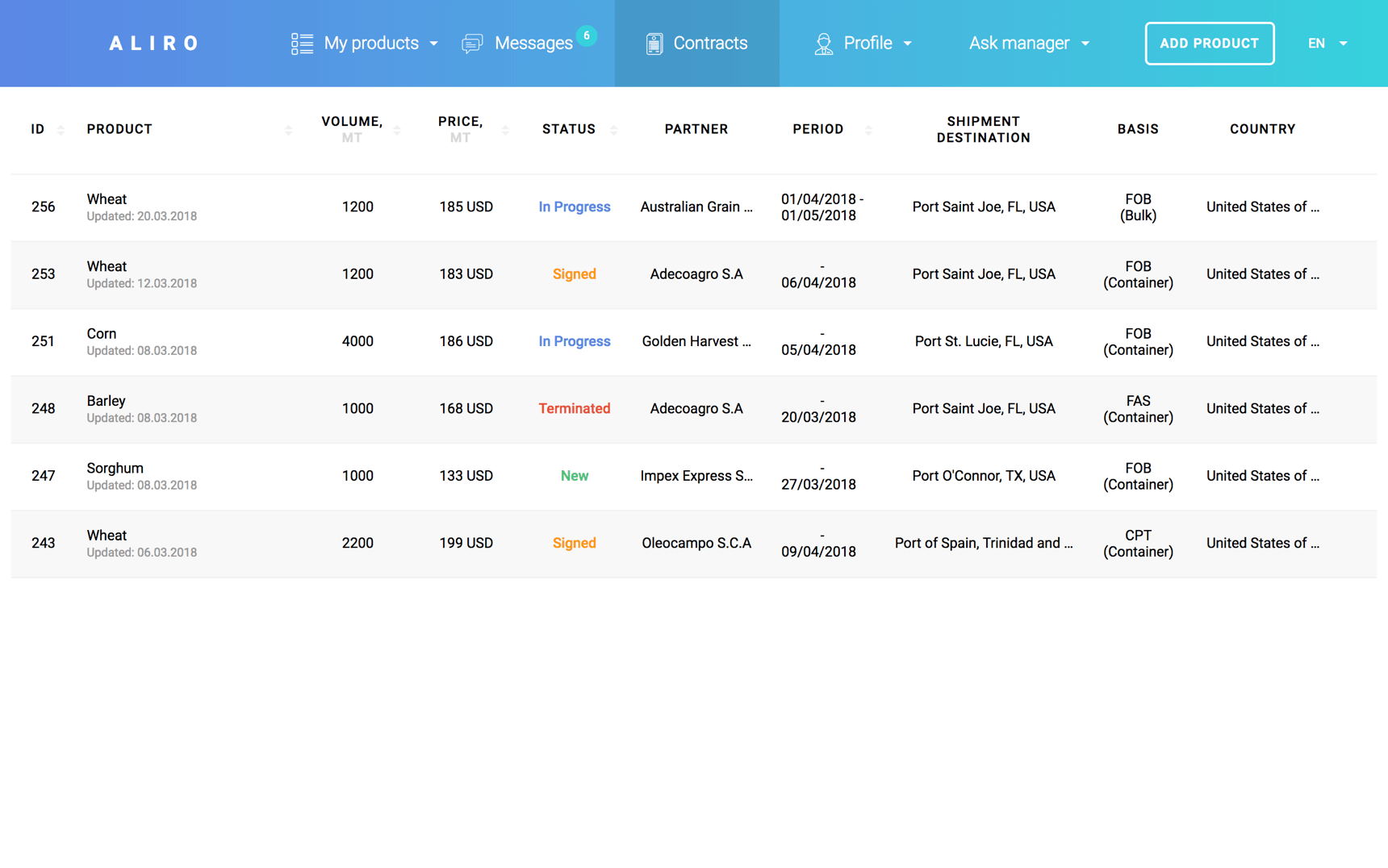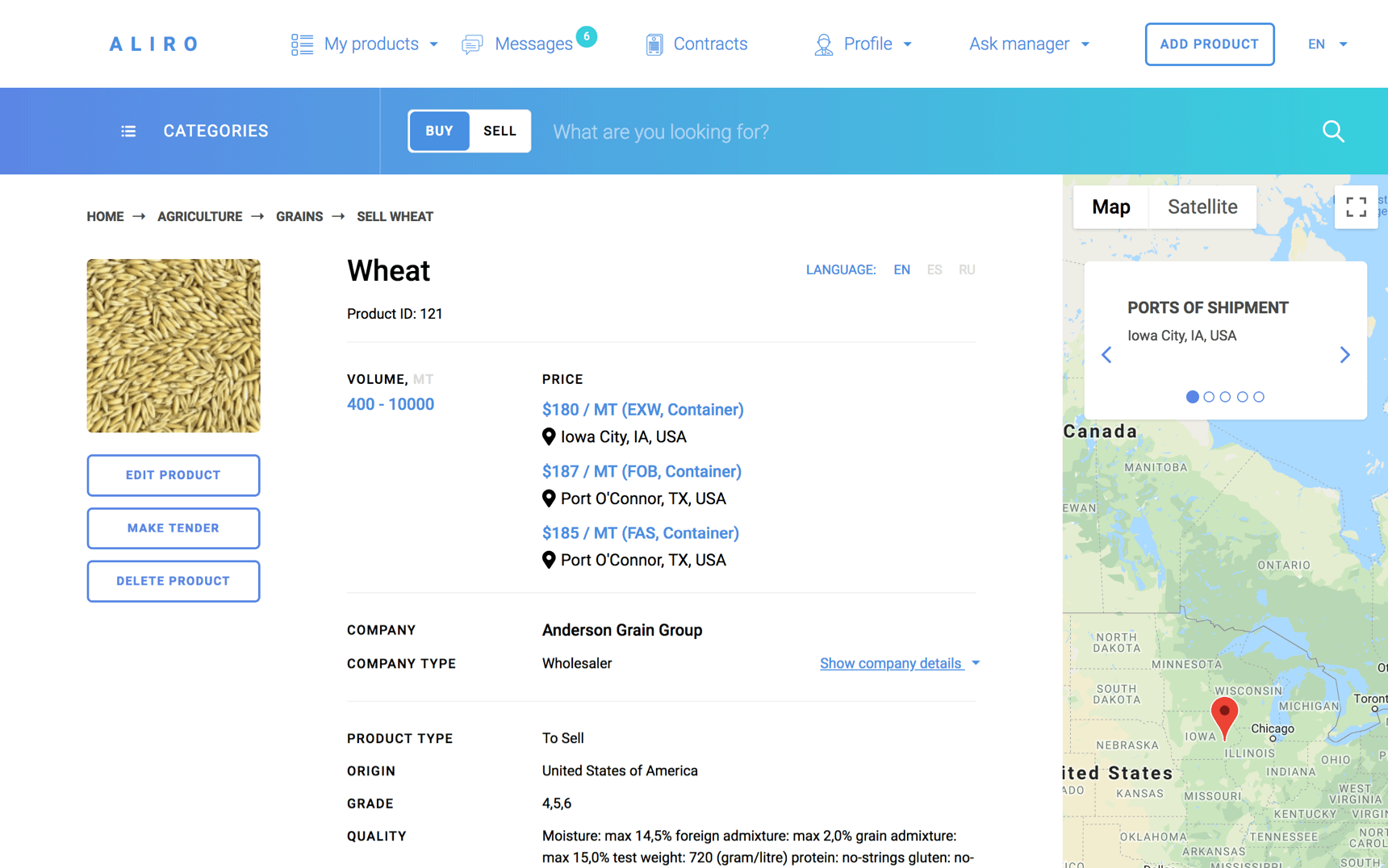 There is also a tender system where companies are invited to compete for a specific product in real time. This helps sellers and buyers to sell their goods at a better price. For example, there is a bidding/auction system for selling goods.
System structure
Technologies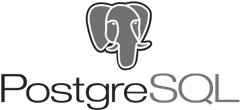 Business Results
The platform was delivered earlier than it was expected and the sales team was able to start finding new clients earlier.
The project's budget was 30% lower than a similar platform created by competitors.
The platform supports English, Spanish, and Russian languages, and new languages can be added easily.
Let's have a conversation
We will get back in touch with you
If you require an NDA, we can provide one after an initial phone conversation.